SOE event: Who.Shapes.Complex.Futures? on April 23th 2016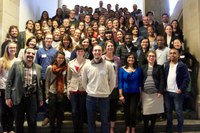 After months of intensive preparation, the MEG10 students finally pulled off their Student Organised Event on the 23rd of April 2016, and with huge success!  
The Freiburg Forum on Environmental Governance was dedicated to the topics of success factors for change and personal mastery. In the morning panel discussion, local and international change markers gathered at the University of Freiburg to share their experiences and strategies that have been successful for instilling change. This was followed by World Café sessions in which participants could further develop their ideas and questions with the individual panelists. Current and past MEG students were treated with a lively exchange on what are the key factors for change, and how do we explore our own inner resources, drivers and visions. 
The second part of the SOE took place in the afternoon after lunch in a form of a workshop with a smaller group of participants. The topic for the session was "Introspection" and the facilitator guided participants through a number of group and solo exercises. 
All in all, participants found the SOE to be very relevant and many of them could take back valuable insights with them and reflect on how they want to become future change-makers! The MEG10 students have also summarised the results and discussions in a document and hope that it is inspiring for the readers. This document can be downloaded here
In conclusion, MEG10 would like to thank all speakers, participants and also the MEG Coordination team for making this event a success.