Interview with MEG Alumni DAAD Scholar
In September this year, Rebecca Nabatanzi (RN) from MEG7 was contacted by DAAD for an interview to share her experience as a DAAD Scholar in the MEG programme and her career path following her graduation. Read the interview excerpt below!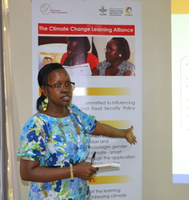 DAAD: What did you study in Germany? 
RN: Master of Science in Environmental Governance from University of Freiburg
DAAD: In which way your study in Germany got you prepared for your work back home? 
RN: Currently I work with International Institute of Tropical Agriculture (IITA) Uganda on multi-stakeholder platforms to address climate change, food insecurity and related issues. My study in Germany oriented me to the fact that when it comes to natural resources management, there is a multiplicity of stakeholders with divergent interests and expectations. It is this that makes it imperative that all these are harmonized so as to achieve sustainable development. The exposure to the high-level international climate change and sustainable development governance agenda and conversations has particularly proven very instrumental in my work.
DAAD: What do you want to accomplish with your work? 
RN: To be a seasoned expert on environment, climate change, agriculture, food security and sustainable development issues with ample ability to share latest knowledge based on credible research and offer tested practical solutions to avert potential environment calamities.
DAAD: You studied in Germany for a reason. Were your expectations met?  
RN: Yes, as i was able to finish my course in record time-thanks to the ever available and reliable support from the academic advisers in addition to other supportive arrangements beyond class.
DAAD: Do you have some advice for the students of the Development-Related-Postgraduate-Courses for their return home?  
RN: I would advise that they need to deliberately look out for opportunities to use their international degree to advance the agenda of the organisations that recruit them rather than assuming superiority over the people they find back home. When it comes to delivering on assignments, the employer is interested in the translation of your knowledge to innovations that propel the organisation to the next level. In pursuit of this, soft skills remain as critical as technical knowledge.
(End of interview)
More information can be found on the website and on the Facebook page of Millennium Express - the media campaign of DAAD's Development Related Postgraduate Courses:
https://www.facebook.com/daadmillenniumexpress 
http://millennium-express.daad.de/?lang=en