MEGgies at work - 2021 Internships
2021 saw a further round of MEG internships taking pace across a wide range of organisations.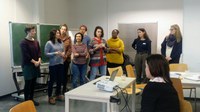 The 'internship cafe' in action
With COVID restrictions in place, many MEG students opted to defer their internship until a later date. In fact, this flexible approach to the Masters internship, as well as other aspects of the Masters such as the thesis deadline and elective modules, has allowed MEG students to tailor their studies and maximise the benefit of their time in Freiburg.
Nevertheless, there was still the opportunity for in-person and remote internships across a number of organisations; both in Germany and abroad. Several students were able to secure impressive placements and undertook their mandatory 7-weeks (minimum) of working experience. 
As always, the range of organisations was broad, with students this year working in research, aid/development, business, consulting, and NGOs. This diversity reflects the wide range of opportunities for employment and further research that MEG students will face as graduates of the programme. For a full list of internship providers for 2021 and previous years, click here.
MEG students at a previous 'internship cafe' event
Students of the MEG programme are actively supported in their search for internships via information events such as the 'internship cafe', where they can learn more about the formal requirements and hear from students who have already undertaken their experience. The next event for current students thinking about their internship will take place this week. This event is geared towards MEG17 students but is also open to other students who are yet to undertake the internship.
The mandatory internship is a key feature of the MEG programme and serves as an important opportunity for students to apply their knowledge and learning to 'real life' working environments and issues. Find out more about the internship here.