MEG 16 - Studying across the globe
How have the MEG 16 cohort been coping with remote learning? We gain insight from three students to find out about their experiences.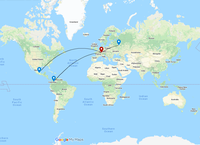 MEG 16 - Studying across the globe
For the MEG 16 generation currently in the first semester of study, several unique obstacles have been faced since they were welcomed to the programme in September. The transition to remote learning was undertaken right from the get go. Laptop screens filled with the tiny faces of class mates have taken the place of busy lecture halls, 'thumbs up' and 'clapping hand' emojis instead of real body language, and broken audio due to poor internet connections replacing fluid conversation. The notification every MEG 16 student has grown to dread?... 'your connection is unstable'!
Even so, for this group of 39 classmates from 22 different countries who have never even experienced a face to face teaching session together, the comradery is tangible. Even for students still unable to move to Freiburg, the ability to form relationships with their peers has been invaluable. Here, we bring the perspectives of three MEG 16 students studying from their home countries, to find out more about how they have continued their learning process despite extraordinary challenges. 
Julio has been studying the first 4 months of MEG from Mexico City. He described his typical mornings over this time as follows:  "It is 6 in the morning, I turn off the laptop and close the black-out curtains in my room, it is time for me to get some sleep even though the sun is rising".
This is because Mexico City has a 7 hour time difference to Freiburg, meaning that most of his classes begin in the middle of the night and last into the early hours of the morning. Julio also pointed out that he had been slightly apprehensive before starting MEG, as he was "worried about the possibility of the programme being poorly engaging" given the circumstances.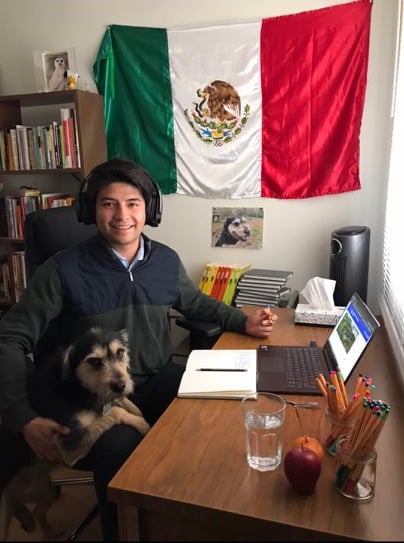 Image above: Julio and his dog Chispa participating in a MEG class from Mexico City.
However, he said that fortunately for him and his classmates, "MEG teaching staff have been sensitive to this situation" and he praised their ability to "adjust their format to make the learning as engaging as possible". Notwithstanding the time zone difference, Julio also had kind words for his fellow students and was keen to point out that "despite being away from each other, our group has managed to connect and develop a positive group atmosphere". He has, in fact, particularly appreciated the chance to take part in remote "pub quizzes and game-nights organised voluntarily by MEG16s".
Tatiana, who has been studying remotely from Bogota, Colombia, also confirmed that time zones were particularly challenging in her experience. For her, "changing my daily routine and my sleep schedule has been physically and mentally exhausting on occasions". However, she also added that her classmates and teachers have been very understanding and helpful with this issue, which has helped her to manage this task.
Like Julio, Tatiana has been able to face these new challenges head on and they have not stopped her from reaping the benefits of her studies. In particular, she noted: "I'm very thankful that I didn't have to postpone my master's studies, and that I have the opportunity to study from home while staying close to my loved ones during these tough time". This positive approach has also carried over to her peer group interactions, and Tatiana has found MEG to be "an exciting journey" in which "getting to know my classmates and their particular backgrounds has been very nurturing".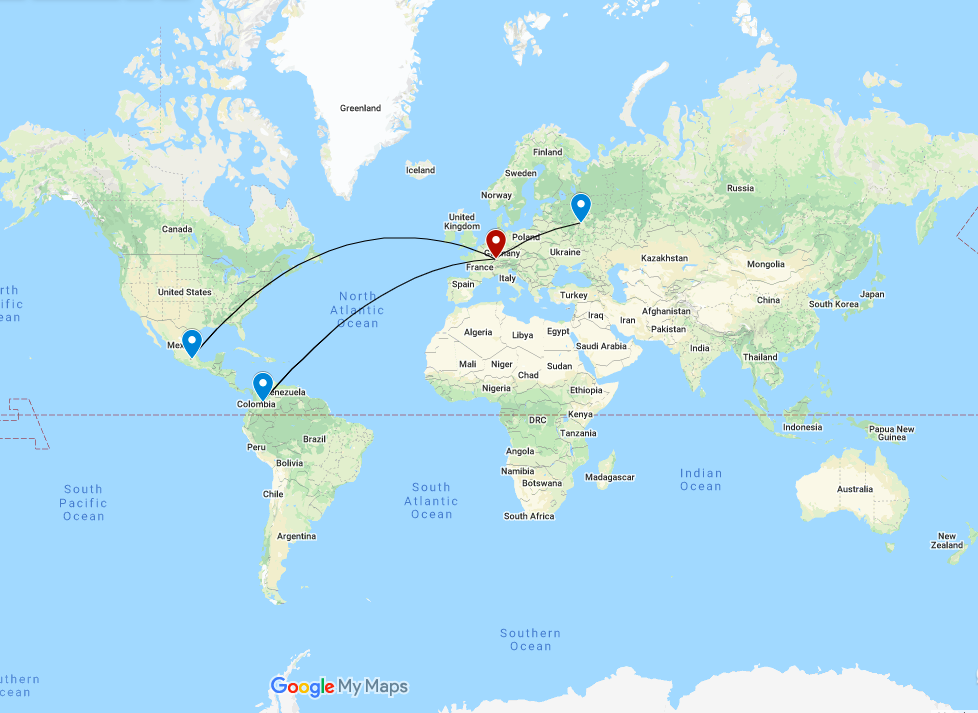 The map above highlights the remote learning locations of Julio, Tatiana and Sofia in relation to Freiburg.
On the other side of the world to her Mexican and Columbian classmates, Sofia has been studying from her Moscow home. Whilst the time zone difference is not as significant when compared to Julio and Tatiana, Sofia has certainly missed the university experience; feeling that it's difficult to feel so "immersed" when studying online from a different country. Even experiences which we may have taken for granted prior to the pandemic, such as "the academic atmosphere that can only be perceived within the university walls", have been sourly missed by her.
Sofia also points out the double edged sword that is learning from the comfort of one's own home, pondering the benefits of "physical comfort from listening to lectures from a favourite soft couch" but also the "potential mental rigidity" stemming from the monotony of home learning.
Yet, just like her classmates, Sofia has been determined to reflect on the positives of this experience and was quick to point out that she feels "very grateful" to be able to "enjoy the learning process, the structure of the modules and the content, trying to embrace as much as possible despite the circumstances". She said the privileges of "immediate access to the Internet and (online) learning materials is a great advantage" in these circumstances.
Several more MEG 16's have also undertaken their studies away from Freiburg and these individual stories only begin to give an insight into the ability of MEG students to triumph in the face of adversity. It is also the tremendous efforts of the MEG staff, for whom the past 9 months have been a period of remarkable adjustment, which has further paved the way for these efforts.
As Julio eloquently summarises, "this has been a learning process for everyone". It is testament to the attitude and application of all involved, that the 16th generation of this Master's program continues to develop their educational, professional and personal development whilst living through these unprecedented times.
Text by Christopher (Christy) Williams, MEG 16. Special thanks to Julio, Tatiana and Sofia.
Sources:
Google (2020) 'MEG 16 remote learning map - January 2021', Google My Maps,  https://www.google.com/maps/d/edit?mid=18kj0igUUVW0EFN2LdIOj_fYxZ51fOfSx&ll=6.060020176167583%2C0&z=2 (January 19, 2021)