Living in Freiburg
This page contains general information about the city, suggestions for accommodation, health insurance, cost of living, student jobs, and language courses.
Arriving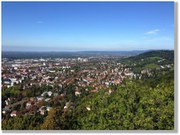 Freiburg is one of the most beautiful and attractive cities in Germany. It is small enough to make you feel at home right from the first day and at the same time it's big enough to be lively and international. More than 900 years of tradition and modern life are linked in perfect harmony. 

Being a university town, Freiburg offers a wide variety of cultural events and attractions such as theaters, concerts, ballet, modern dance, music festivals, museums, exhibitions, etc. In short, there should be something of interest for everyone. The town is dominated by students - and their bicycles! Freiburg is also known as the "ecological capital" and environmental consciousness is of major significance here. Due to its many solar energy projects, Freiburg is also called the "solar city". 

Freiburg is ideally situated in the Black Forest, very close to France and Switzerland, inviting many interesting trips. The mild climate is another bonus; Freiburg enjoys the most days of sunshine and the warmest temperatures of all German cities.

The four nearest airports are - Frankfurt (2 hours), - Stuttgart (2 hours) , Basel/Mulhouse (Switzerland/France, 1 hour) and Zürich (Switzerland, 2 hours). 

More information:
For general information about Freiburg in English, French, German click here
For a Freiburg slide show and virtual city tour click here 
The above video was recently made by the geography students at our faculty and gives you an insight into life in Freiburg.
Accommodation
In Freiburg, a fairly large number of student residences are available. Therefore, it is important that you apply for accommodation as soon as possible. You can do this online. There are 
public student dorms
managed by the Studierendenwerk.
Moreover, it is possible to look for accommodation in the private sector. Monthly rent for a room in a hall of residence generally costs between 280 and 450 Euro. The rent for a room in a shared private flat usually varies from 280 to 400 Euro a month. Accommodation can be found through 
It is best to already start looking for accommodation as early as August or September. In October it is very difficult to find accommodation.
While you are searching for your own accommodation you could stay in unoccupied rooms of master students who are away during the break (please contact the coordinator if you wish to do so). Or you could stay at the 
Freiburg youth hostel,
the 
'Backpacker Hotel'
or the
Greencity Boardinghouse
.
Health Insurance
One of the prerequisites for registration is proof of health insurance. For students under the age of 30 health insurance is compulsory. 

Due to international health insurance agreements students from all EU-member countries do not have to register with a German health insurance company. Students from these countries can show proof of health insurance carried in their home countries, which needs to be validated by one of the German health insurance companies (European Health Insurance Card EHIC).

All other students have to register at a public German health insurance company, which costs about 110 € per month. You can set up the health insurance upon you arrive in Freiburg, it is not possible to register in advance.
Cost of Living
The monthly cost of living is usually between 600 and 850€, including accommodation, health insurance, food, and entertainment.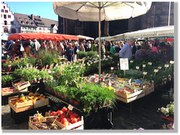 accommodation: 280 - 450 Euro
health insurance: 110 Euro
food: 150 - 250 Euro
spare time activities: 50 - 100 Euro
other: 50 - 100 Euro
It is not advisable to come to Germany to study if you do not have a secure source of funding. The job market conditions in Germany make it difficult for students to find jobs. Apart from that, you will not have too much time to spare during the semester as our modularised course structure will require your full attention.
Student Jobs
Overseas students from countries that are not part of the EU or EEA must not work for more than three months a year (90 days full time or 180 days part-time) without a work permit. It is very difficult for students to obtain a work permit

Exceptions are made for students who work as research assistants at the university. In this case, students are allowed to work for more than three months a year during the studies. The work department checks up on this and it must be authorised by the foreign department. Student research assistants are paid about 11 € an hour. Students should not work more than 83 hours per month. 

Students from EU or EEA countries (Iceland, Liechtenstein, Norway) and Switzerland do not need a work permit and there is no limitation to the number of hours they work. If working as a student research assistant they must not work for more than 83 hours a month either.
Language courses
Many students are also interested to take language courses aside from the regular MEG curriculum. There are various institutes that offer intensive or extensive German courses.
From all corners of the world
b0643304c7f60fa735189e3e85e043de