Application Deadline for 2022 on 15 May
Would you like to join the 18th cohort of MEG students? Find out more about the application process and deadline here.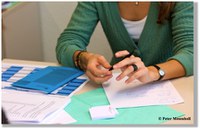 Would you like to join the 17th cohort of MEG students? We invite you to submit your application for the semester start in September of 2022.
The application deadline for the intake 2021 is May 15. You can hand in your application online from March 20. Detailed information about the application process can be found here.
This application period is for so-called "regular applicants". Prospective students wishing to apply under a DAAD-EPOS scholarship can do so from July 15 to October 15,  for winter semester 2023. 
We look forward to hearing from you!