Freiburg Forum on Environmental Governance - Film Event!
Join us for the exciting film event!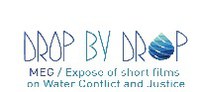 35 Students from 21 countries highlight issues of water conflict with an Expose of short films. With speakers from around the world and an exciting mix of film styles being exhibited for the first time, the event promises to be a highlight in the environmental calendar of Freiburg´s international student body.
This year the Freiburg Forum on Environmental Governance will highlight themes related to water conflicts and water justice through six films produced by the MEG9 generation and  trigger the discussion with expert speakers. The films contain different perspectives on the role of water as a cause of conflict and injustice, the political and economic drivers of water scarcity, the responsibility of individual water consumption, and the technical, social, political and civic initiatives that have been developed by various sectors to prevent conflicts and injustice.
At the Faculty of Environment and Natural Resources, Tennenbacherstr. 4, 79104 Freiburg.
On 21st February. Doors open for welcome drinks at 17:00, 18:00 speakers, 19:00 Film screenings.
Follow us!
Website: 
Facebook Page: 
https://www.facebook.com/dropbydropwaterconflictjustice