MEG Programme Awarded EMI Certification
MEG certified as an official English Medium Instruction (EMI) Master's programme by the University of Freiburg Sprachlehrinstitut (SLI)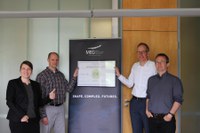 EMI Staff present MEG Programme Directors with official certification
During Winter Semester 2016-2017, the MEG programme underwent a quality assurance procedure to assess the linguistic and communicative competencies of its instructors. Today, we are happy to report that the English Medium Instruction team (EMI team) at the University of Freiburg has awarded the MEG programme official EMI certification! The certification is valid for five years.
As part of the quality assurance procedure, EMI team members visited and documented MEG classes on video. In addition, students were asked at the end of each visited session to fill in a feedback form on the linguistic and communicative performance of the respective teacher. The EMI evaluation process then combines feedback from experts, students, and the lecturer on the linguistic and communicative quality of an observed session.
More information about the English Medium Instruction Quality Management and the EMI certification can be found here.