Drop by Drop event
MEG9 Freiburg Forum on Environmental Governance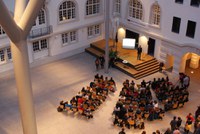 Drop by Drop is a collection of six perspectives on Water Conflict and Justice produced by the 9th Generation of MEG students from the University of Freiburg. Months of preparation culminated in the series of videos which were featured on the 21st of February 2015, as part of the annual Freiburg Forum on Environmental Governance. 
Water is a basic human necessity and a fundamental human right. However, the reality is that many people suffer either from natural water scarcity or scarcity due to the mismanagement of water resources. This results in a lack of access to water on the one hand and unequal access to water on the other hand, culminating in conflicts and unjust social conditions around the world.
This year the Freiburg Forum on Environmental Governance highlights themes related to water conflicts and water justice. The aim is to raise awareness and trigger discussion by giving six perspectives on the role of water as a cause of conflict and injustice, the political and economic drivers of water scarcity that result in these conflicts, the responsibility of individual water consumption, and the technical, social, political and civic initiatives that have been developed by various sectors to prevent conflicts and injustice. The event was a great success with university students, professors and even general public turning up to catch the interesting videos. 
For more information and photos of the event that took place, please visit the event webpage at http://drop-by-drop.org.