MEG Students explore Ecosystem Management in the field
As part of the Ecosystem Management Module, students from MEG-12 generation programme visited five sites around Germany to learn how the principles of ecosystem management are applied in real-world situations.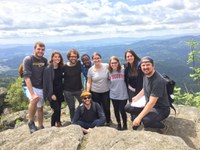 MEG Students in Nationalpark Bayerischer Wald (Bavarian Forest National Park)
MEG students spread out across Germany last week as they explored the principles of ecosystem management outlined by the Convention on Biological Diversity. Students met with foresters, land-owners, park rangers, scientists, and many other stakeholders as they assessed the opportunities and challenges of leveraging the ecosystem approach to achieve sustainable use and conservation of natural resources as well as fair sharing of the benefits from ecosystem goods and services.
Students participated in excursions to:
the Bavarian-Bohemian Forest to learn about various management schemes for protecting and utilizing the largest contiguous forest in Central Europe.
the Biosphere Reserve Rhön to learn about landscape governance and balancing conservation of biological and cultural diversity with economic and social development.
the Emscher River to learn about nature protection and renaturation on a river in one of the largest and most densely populated old-industrial regions in Europe.
Freiburg and its surroundings to learn about ecology, human-wildlife conflict, and urban wildlife management.
the Nationalpark Schwarzwald (Black Forest National Park) to learn about conflict mediation and other societal dynamics stemming from the creation of one of the newest national park in Germany.