MEG Students visit Frankfurt & Geneva
MEG 12 students spent the past week visiting international organisations in Frankfurt, Germany and Geneva, Switzerland as part of their Global Environmental Politics module.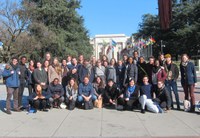 MEG 12 in the bright sunlight in front of the United Nations, Geneva
For students from the 12th generation of MEG, the first semester of courses culminated with two excursions to meet policy experts and programme managers from a variety of national and international organisations during the last week of February, 2017.
In Frankfurt, students visited Deutsche Gesellschaft für Internationale Zusammenarbeit (GIZ) and Kreditanstalt für Wiederaufbau (KfW) to learn about international environment and development issues.
In Geneva, students engaged with representatives from United Nations Environment (UNEP), the International Labour Organisation (ILO), the Food and Agriculture Organisation (FAO), the International Union for the Conservation of Nature (IUCN), and many others to discuss pressing environmental challenges and governance strategies to tackle them.
The excursions were made possible in part through the generous support of the German Academic Exchange Service (DAAD).