Welcome to MEG!
The M.Sc. -programme Environmental Governance (MEG) was established in 2005 to train leaders to be able to reconcile different social perspectives with regard to the sustainable use of environmental resources as a basis for sustainable development - for any development, at any scale from local to global, and in any context worldwide. Every year, around 35 outstanding students are selected based on criteria of excellence and geographical representation.
Blog and Announcements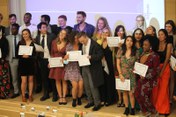 MEG 15 Celebrate Graduation in Style 

17.10.2021 
At the start of this month, the 15th cohort of MEGgies celebrated their graduation in style, with an in-person ceremony taking place on-campus.
MEG 16 - Studying across the globe -Read More…

A Warm Welcome for the 17th Generation of MEG Students

26.09.2021 
Last week, the newest generation of MEG students came together in Freiburg for their orientation days. Find out more here.
MEG 16 - Studying across the globe -Read More…

Badische Zeitung Praises MEG Students

14.09.2021 
The Freiburg regional newspaper has praised the student organisers of the 'call for ideas' competition for being 'committed to sustainability'. Find out more here.